Blog
How Do I Make My Lips Plumper and More Kissable?
3 Min Read
The lips play an important role in facial beauty, so if you are displeased with the appearance of yours, it can drain your confidence. Flat, thin lips might make you feel unkissable or like your smile is missing that extra factor that could make it more noticeable and desirable.
Lip augmentation and lip enhancement procedures are designed to plump the lips and make them more appealing and youthful. With these treatments, your smile can be significantly improved, and you will want to flaunt your voluptuous lips.
Dr. Calabria offers injectable lip fillers, fat grafting, implants, and many other options to help you achieve your desired results. Surgical and nonsurgical options are available, so regardless of your lip concerns, there is likely an option that can work for you.
What Surgical Options Are Available?
Patients who are seeking a dramatic change in their facial appearance may want to opt for a surgical procedure to significantly enhance their lips.
Lip Augmentation
When fuller, thicker lips are desired, volume can be added in many different ways. A dermal (skin) graft or implant material may be placed into the lips as a long-lasting—or in some cases permanent—solution to depleted volume.
Other situations call for a fat graft, which harvests fat deposits from the patient's body, purifies the cells, and injects the purified fat into the lips. This treatment is also long lasting and can remain in the lips longer than a filler.
Lip Lift
A lip lift is designed to raise where the lips rest below the nose. The procedure shortens the distance between the upper lip and the nose for a higher-placed upper lip.
Lip Revision
Lip augmentation surgery sometimes yields undesirable results, especially when silicone is used. A lip revision can be performed to remove the permanent filler materials or adjust the appearance of previously augmented lips.
What Nonsurgical Options Are Available?
Minimally invasive techniques to add fullness to the lips can be used as standalone treatments or combined with another procedure to achieve the desired outcome.
A numbing agent, such as an anesthetic cream or ice, is typically applied prior to treatment.
Laser Peels
A laser peel is an effective approach to reducing wrinkles and fine lines that form around the lips.
Not all patients are good candidates for this procedure, as skin type can make a huge difference in the results. The Fraxel® laser is more suitable for darker skin tones, while a fractional CO₂ laser may be more beneficial for lighter skin tones.
JUVÉDERM® Ultra
This injectable lip enhancement is a gel made of hyaluronic acid. One treatment takes approximately 15 minutes to complete, and the results can be seen immediately.
Side effects can include mild discomfort and redness, which usually take less than a week to subside. Results can last for up to one year after treatment.
Restylane®
Another injectable option is Restylane®, which is also a gel filler made of hyaluronic acid.
Injections take approximately 30 minutes or less, with results visible immediately after treatment. Results from this treatment can last up to six months or longer.
Which Option Is Best for Me?
Your personal goals, preferences, and concerns will all play an important role in which treatments will work best for you.
Permanent solutions may cost more up front but have longer-lasting results.
Temporary treatments can cost less per session and do not typically require downtime.
Injectable fillers require follow-up treatments to maintain the results.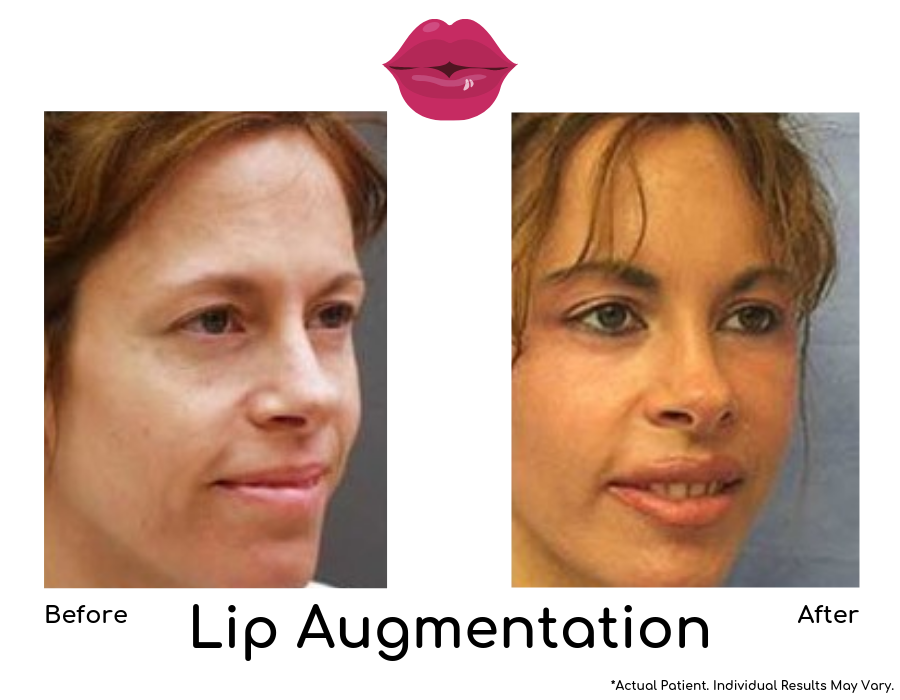 Every approach is personalized to meet your needs and achieve your desired results. Please schedule a consultation with Dr. Calabria and his team to discuss your options in further detail. Your plump, kissable lips are waiting!
For more information about lip augmentation procedures, please call our Beverly Hills office at 323.612.0867, our Rancho Mirage office at 760.836.0077, or our Milan, Italy office at +39.349.4662323.