Blog
Are Facial Fillers Safe?
3 Min Read:
As non-surgical facial rejuvenation treatments are gaining in popularity, more women and men are asking whether or not these treatments are reliable and safe.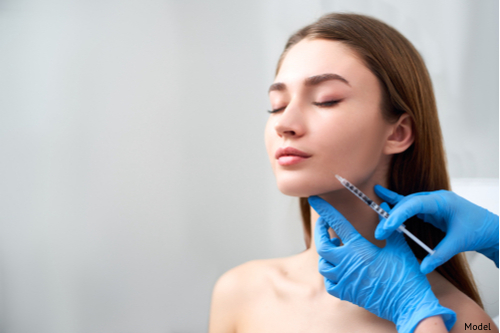 Facial fillers are among the most popular non-surgical cosmetic treatments today, with over 2.5 million soft tissue fillers being injected in 2018. Facial fillers are injectable treatments that restore volume to the face and minimize the appearance of deep lines and wrinkles caused by facial fat loss.

In addition to plumping facial contours and eliminating wrinkles, facial fillers can add volume and shape to your lips, minimize scar depressions, and slightly augment facial contours (such as the jawline, chin, or nose).

Facial fillers are injectables made from synthetic compounds, including hyaluronic acid and calcium hydroxylapatite. While some of these ingredients are found naturally in the body, they are still a foreign substance, and some women and men are wondering how safe they are to use.
What Is Hyaluronic Acid?
The product suites of Restylane® and JUVÉDERM® are made of hyaluronic acid (HA). Hyaluronic acid is a naturally occurring protein that assists with water retention and helps keep tissues lubricated and moist.

Your body produces a significant amount of hyaluronic acid when you are young (which is partially why younger people have such plump and smooth skin). Unfortunately, this production diminishes as time goes by, resulting in prematurely aged skin.

Hyaluronic acid fillers help to restore the body's levels of HA and temporarily return plumpness and fullness to the skin. Since the body absorbs hyaluronic acid readily, you will need additional filler every year or so if you wish to see volume improvement.
What Are Calcium-Based Microspheres?
Calcium-based microspheres make up the dermal filler RADIESSE®. Like hyaluronic acid fillers, RADIESSE® aims to restore facial volume and correct facial lines and creases, such as marionette lines, nasolabial folds, and frown lines.

RADIESSE® is a semi-solid injectable that consists of biocompatible calcium hydroxylapatite (calcium-based microspheres) that are suspended in a water-based gel. This injectable provides instant fullness and stimulates the body's natural collagen production, allowing the body to repair itself from within.

While RADIESSE® is also absorbed by the body, the collagen that it stimulates will remain.
Are Facial Fillers Right for Me?
The most significant concern with facial fillers is that they can potentially result in an allergic reaction. Even though some of these ingredients are found naturally in the body, they are still produced synthetically, and those with skin allergies or sensitive skin may react to the compounds.

Inform Dr. Calabria of any known allergies during your consultation to help ensure a safe facial filler treatment.

Additional side effects that may result from facial fillers include:
Redness
Swelling
Bruising
Itching
These symptoms dissipate within days after treatment. Most facial fillers have favorable results that can last one year or more.

The vast majority of facial filler patients never experience any complication with their treatments. Facial fillers are safe and effective, whether you are looking for a one-time use or a long-lasting commitment.
Interested in Learning More?
If you are interested in dermal fillers with Dr. Calabria, contact our offices to schedule a consultation by calling our Palm Springs office by calling (760) 836-0077 or by filling out our online contact form.