One Stitch Facelift in Palm Springs
We all want to restore more youthful-looking facial features with as little invasiveness as possible. Fortunately, advancements in plastic surgery is making that possible, and facial specialists like Dr. Renato Calabria are creating natural-looking results without the need for traditional facelift procedures.
What Is a One-Stitch Facelift?
In old Hollywood, actresses used a trick to keep themselves looking young: they would apply tape to pull their slackened skin upward, carefully hiding the tape under their hair or wigs. This concept inspired Dr. Calabria to develop a procedure that could accomplish the same feat but with more permanent results.
Calabria explains, "The unique feature of the one-stitch facelift is that it uses your own loose skin at the level of the sideburn, which has been de-epithelialized, tunneled, and anchored through another small incision in the temporal area." He continues, "It's a sort of a natural lift, without the insertion of any external threads […]. If you place your fingers on your cheeks and pull up, you can get an idea of what the effect will be."
What Are the Benefits of a One-Stitch Facelift?
Women and men choose the one-stitch facelift because:
It provides longer-lasting results than the thread lift
It is performed under local anesthesia with no sedation
There is minimal downtime or recovery time
It provides more youthful features without incisions and multiple sutures
Am I a Candidate for a One-Stitch Facelift?
The one-stitch facelift is a minimally invasive procedure. Still, patients should be:
In good overall health
Non-smokers
Realistic in their expectations for their results
It is important to remember that this procedure is not ideal for all patients. Men and women with moderate to severe signs of aging will likely require more traditional facelift techniques, such as Dr. Calabria's well-known and transformative vertical facelift.
How Is a One-Stitch Facelift Performed?
The one-stitch facelift is a minimally invasive facial rejuvenation technique that is performed quickly and painlessly.
Here, Dr. Calabria uses your own skin at the level of your sideburns and anchors it slightly upward. The one-stitch facelift is a true "lunchtime lift" and is performed with local anesthesia.
Since it requires no sedation, you can drive yourself to your own appointment and then go about your business immediately afterward.
What Can I Expect From My One-Stitch Facelift Recovery?
This procedure is an excellent approach for patients who are concerned about downtime. With downtime being so minimal, many patients can even return to work the very next day.
For the "recovery," patients can expect minimal swelling and no bruising. In fact, according to Dr. Calabria, the sideburn is the only area that even shows signs of having had surgery, and these signs become almost unnoticeable within one to two weeks.
When Will I See My One-Stitch Facelift Results?
Compared to the aggressively touted thread lift, the one-stitch facelift has been proven to produce longer-lasting results. The quality and longevity of the results come down to Dr. Calabria's unique technique, all modeled after an old Hollywood beauty secret. Because the patient's own skin is used as an anchor to hold the facial tissues in place, Dr. Calabria affirms, "[…] the longevity of the result is vastly superior and results are more natural."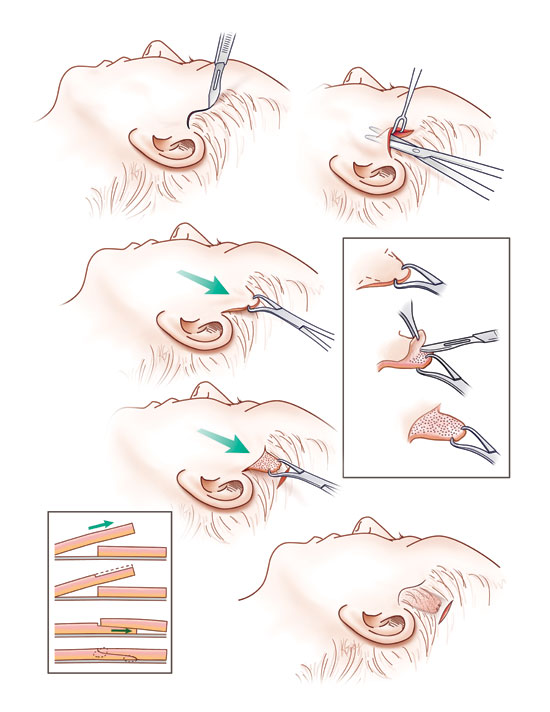 Frequently Asked Questions About the One-Stitch Facelift
---
Is there an age limit for the procedure?
The one-stitch facelift can be performed on patients at any age to address the early signs of age in the midface. There is no age limit; however, patients with more advanced signs of laxity may be better suited for a different facelift technique.
---
Will a one-stitch facelift leave scarring?
One of the many benefits of the one-stitch facelift is that patients are left with little to no scarring. Since only two small incisions are made near each sideburn, scarring is minimal. If you are left with some scarring, it should fade over time and be easy to conceal.
---
How long will the one-stitch facelift procedure take?
The procedure length of a one-stitch facelift varies between patients depending on the amount of correction needed. A one-stitch facelift is a generally quick procedure, taking around 45 minutes to complete. Since the one-stitch facelift uses smaller incisions than the traditional facelift, the procedure is quicker and safer.
---
Is the one-stitch facelift painful?
Since the one-stitch facelift is performed using local anesthesia, you should not feel any pain. You may experience some mild bruising and swelling during the first week of your recovery. Over-the-counter pain medication can be used to combat the pain. If discomfort persists, Dr. Calabria may prescribe pain medication to be taken as needed.
---
Does the one-stitch facelift address the neck?
The one-stitch facelift is designed to address the midface. This process will not affect the jawline or neck. If you have concerns in these areas, Dr. Calabria offers a wide variety of facial rejuvenation techniques.
---
Can I combine my one-stitch facelift with dermal fillers?
Many patients choose to follow their one-stitch facelift with other procedures such as dermal fillers, BOTOX®Cosmetic, and more. This combination enhances the results of your minimally invasive facelift by addressing additional lines and wrinkles and restoring volume across the face, including in the cheeks, temples, tear troughs, nasolabial folds, and lips.
---
Will my one-stitch facelift need to be redone?
Since the one-stitch facelift is less invasive than the traditional facelift, having the procedure redone is often safer and less complicated. Results should last a few years before needing to be redone. To optimize your results, it is important to follow all postoperative instructions, along with continually protecting your skin from the sun.
---
How much does a one-stitch facelift cost in Palm Springs, CA?
The cost of a one-stitch facelift varies between patients. The cost depends on the type of anesthetic used, anesthesiologist fees, surgeon fees, and the amount of correction needed. Schedule a consultation with Dr. Calabria to receive detailed financial information based on your specific needs for the procedure.
Dr. Calabria offers financing options for patients looking to make their cosmetic dream a reality.
For more information about Dr. Calabria's one-stitch facelift, call (760) 836-0077 or contact us online to request your personal consultation.