Dr. Calabria has revolutionized facelift surgery. He offers exciting alternatives to traditional facelift surgery, such as the "vertical facelift" and the "one-stitch facelift."
Dr. Calabria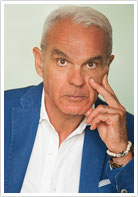 Dr. Renato Calabria is a California Board-Certified Plastic Surgeon and cosmetic plastic surgery specialist. A widely renowned Beverly Hills plastic surgeon, he has been given the title of one of "America's Top Plastic Surgeons," so named by Consumers' Research Council of America's 2008 Guide to America's Top Plastic Surgeons. Also nominated "Physician of the Year" in 2005, Dr. Calabria was even profiled in best-seller "The Beauty Makers" representing a small list of the best plastic surgeons in the country.
Dr. Calabria is a graduate of the University of Padua in Italy, one of the world's most prestigious and long-standing medical schools. As a post-doctorate, he received training at both Wadsworth-VA Medical Center in Los Angeles and Harbor-UCLA Medical Center for a total of two Research Fellowships in Surgery. He then completed his Residency in Pathology at Wadsworth-UCLA Medical Center, followed by another five years of training in General Surgery at Kern County-UCSD Medical Center. To round out his training even further, Dr. Calabria moved to the San Francisco Bay area to go to the St. Francis Memorial Hospital to receive training in Plastic and Reconstructive Surgery, the oldest Plastic Surgery Training Program on the West Coast. Finally, Dr. Calabria moved back to Beverly Hills and has been running his practice there since 1995. To better meet his patients' needs, Dr. Calabria eventually branched out with a new office here in Rancho Mirage, as well as international offices in Rome and Milan.
In addition to being board certified by the American Board of Plastic Surgery, Dr. Calabria is also part of several prestigious organizations; he is a Member of the Los Angeles Society of Plastic Surgeons, a Fellow of the American College of Surgeons, a Member of the American Society of Plastic Surgeons, and a Fellow of the Royal Society of Medicine in London. He is also a Member of The Editorial Board of Body Language. Additionally, Dr. Calabria works at the University of Southern California as a voluntary faculty member of their Department of Plastic Surgery, teaching residents about the latest techniques in cosmetic surgery.
Dr. Calabria is the author and coauthor of numerous publications. He has written multiple book chapters on plastic surgery of the face and body and has given lectures at both national and international meetings. Some of these have included meetings of the American College of Surgeons, the California Society of Plastic Surgeons, the American Society of Plastic Surgery, and the Italian-American Society of Plastic Surgeons. A leading expert in plastic surgery, Dr. Calabria has been interviewed in The Los Angeles Times, The Wall Street Journal, Forbes Magazine, USA Today, Vogue, Glamour, Vanity Fair, LA Confidential, People Magazine, Cosmopolitan, In Touch Magazine, Star Magazine, Us Weekly, More Magazine, The National Enquirer, Men's Journal, Repubblica, L'espresso, Anna, Class, Oggi, Bunte, Chi, Diva e Donne, Gente, and many others.
To complement his written articles, publications, and interviews, Dr. Calabria has been widely recognized by television media for his expertise in cosmetic surgery. Features of Dr. Calabria have appeared on NBC News, CBS News, KTLA News, Channel 9 News, Extra, Inside Edition, The Insider, VH1, Tyra Banks Show, The WE Channel, and others. Dr. Calabria has also been invited to participate as a faculty member for numerous aesthetic workshops across the United States and Europe. Dr. Calabria is at the forefront of developments in endoscopic facial plastic surgery ("minimally invasive" surgery) and has given various panels about it.
It has always been of Dr. Calabria's high priorities to help children with congenital defects. He has devoted time participating in several missions to Third World countries primarily in the Central and South American regions. During these missions, he has conducted hundreds of reconstructive surgeries to correct congenital defects for children in need of medical assistance.
Awards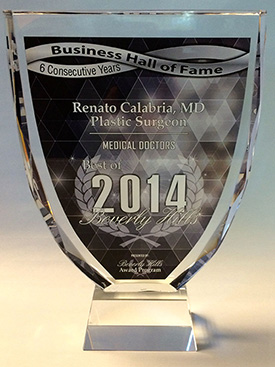 Best of 2014 Beverly Hills
Medical Doctors 2014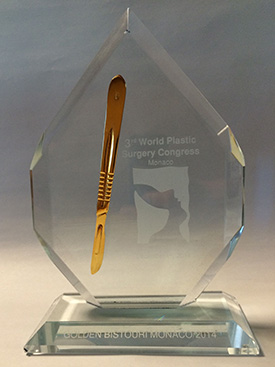 Golden Bistouri (Scalpel) Award
Dr. Calabria was presented this award at the 2014
3rd World Plastic Surgery Congress in Monaco
---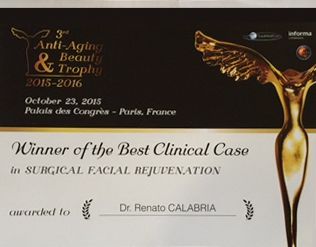 Best Clinical Case in Surgical Facial Rejuvenation
Dr. Calabria was awarded Best Clinical Case in Surgical Facial Rejuvenation at the 3rd annual Anti-Aging & Beauty Trophy 2015-2016 held in Paris, France.
---
| Back To Top |