Laser Skin Resurfacing in Palm Springs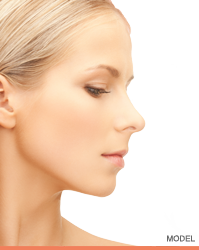 Laser skin resurfacing, also known as a "laser peel," can shave years off a patient's facial appearance and produce younger-looking skin. Traditionally, laser skin resurfacing utilizes a carbon dioxide (CO₂) laser to remove areas of damaged or wrinkled skin, layer by layer. The procedure is most commonly used to minimize the appearance of fine lines, especially around the mouth and eyes. However, it is also effective in treating facial scars or areas of uneven pigmentation. Beverly Hills Plastic Surgeon Dr. Renato Calabria offers a variety of options for laser skin resurfacing to meet the range of skin types and needs of his patients.
Benefits of Laser Skin Resurfacing
Smooths fine lines and wrinkles
Tightens aging skin
Corrects pigment irregularities, such as brown spots and blotchiness
Long-lasting improvement in skin quality and texture
---
Procedure
Laser resurfacing is performed using a beam of laser energy that vaporizes the upper layers of damaged skin at specific and controlled levels of penetration. Once the outer layers of damaged skin are stripped away, new skin cells begin to form. Throughout the healing process, a smoother, more youthful skin surface appears due to a boost in collagen production.
---
Laser Skin Resurfacing Options
Fractional CO₂ Laser
The fractional CO₂ laser combines fractional technology with the deep ablative properties of the CO₂ laser. The fractional CO₂ laser can superficially target the epidermis and remodel collagen deep within the reticular dermis. This treatment dramatically reduces the appearance of scars and uniformly resurfaces the skin with minimal downtime and rapid recovery. Dr. Calabria has been at the forefront of this new and exciting method of facial rejuvenation and has been invited to numerous workshops in the U.S. and Europe to train other surgeons on fractional CO₂ laser techniques.
Fraxel® Erbium Laser
Fraxel® is a non-ablative erbium laser that is typically used to resurface sun-damaged and aging skin. This sort of laser treatment is more superficial than fractional CO₂ laser treatment, but it requires a much shorter recovery period. Most patients need multiple sessions of Fraxel® to achieve their desired results, but the gradual change and lack of downtime are appealing to those with little time to spend out of commission.
[Schedule a Consultation With Dr. Calabria]
---
Frequently Asked Questions
Q: Am I a candidate for laser skin resurfacing?
A: You may be a candidate for laser skin resurfacing if you are experiencing deep wrinkles, acne scars, sun spots, and other skin issues. Laser skin resurfacing candidates are men and women who:
Are in generally good health
Do not smoke
Have realistic expectations of their results
---
Q: How long will my results last?
A: Deeper laser skin resurfacing treatments tend to have longer-lasting effects, and superficial remedies like Fraxel® may require additional sessions to maintain results. Having laser resurfacing can enhance your appearance and self-confidence, but it won't completely remove all facial flaws or prevent you from aging.
---
Q: How many laser skin resurfacing treatment sessions will I need?
A: The number of laser skin resurfacing treatments that will be necessary to obtain and maintain your ideal results will vary depending on the type of skin resurfacing you undergo and your body's natural aging process. A consultation with Dr. Calabria can help you estimate how many sessions you will need.
---
Q: What are the risks of laser skin resurfacing?
A: All surgical procedures come with some risks. Complications from laser skin resurfacing are uncommon, but they may include:
Hematoma or seroma
Infection
Bleeding
Allergic reaction
---
Q. How much does laser skin resurfacing cost?
A: The cost of laser skin resurfacing varies between patients, depending on the amount of correction needed and the number of treatment sessions necessary to reach ideal results. The cost also depends on surgeon fees, the procedure's location, and any treatments being performed in combination.
---
Q: How long is the recovery period after laser skin resurfacing?
A: While the length of recovery depends on the extent of correction and technique used, most patients can resume work and routine activities within two weeks after treatment. The residual pinkness of the skin may last for several weeks, and proper sun protection should be worn during this period.
---
Q: What can I do to prepare for my laser skin resurfacing appointment?
A: Dr. Calabria will provide you with detailed pre-op directions, which may instruct you to:
Quit using tobacco products.
Avoid anti-inflammatory medications.
Drink plenty of fluids to maintain hydration.
Arrange for a friend or relative to drive you to and from your appointment.
| Back To Top |